Marlie Packer: "For me as a Red Rose, I want to sell out Twickenham. We can do it and I believe we can do it before 2025 for the World Cup final. Look at today – we weren't a curtain raiser. None of us have played in front of a crowd like that, it was just a very special occasion"
Last Updated: 29/04/23 7:17pm
England captain Marlie Packer says the Red Roses next want to sell out Twickenham completely, after playing in front of a world-record crowd as they beat France on Saturday, but added it is not time yet for all their Tests to played there. 
A stunning first-half Red Roses blitz ensured a fifth Six Nations title in succession as they beat France 38-33 to complete the Grand Slam at Twickenham on a history-making and record-breaking day.
Saturday's contest was the first time a standalone Red Roses Test had been played at Twickenham, and it took place in front of a world-record 58,498 crowd for a women's international.
England scored six tries in the Grand Slam decider through wing Abby Dow, flanker and skipper Packer, No 8 Alex Matthews, lock Zoe Aldcroft, hooker Lark Davies and a penalty try – five of which came in a stunning 25-minute, first-half assault.
"For me as a Red Rose, I want to sell out Twickenham," Packer said at the post-match press conference.
"I believe we can do it and I believe we can do it before 2025 for the World Cup final. Look at today – we weren't a curtain raiser, it was all about us.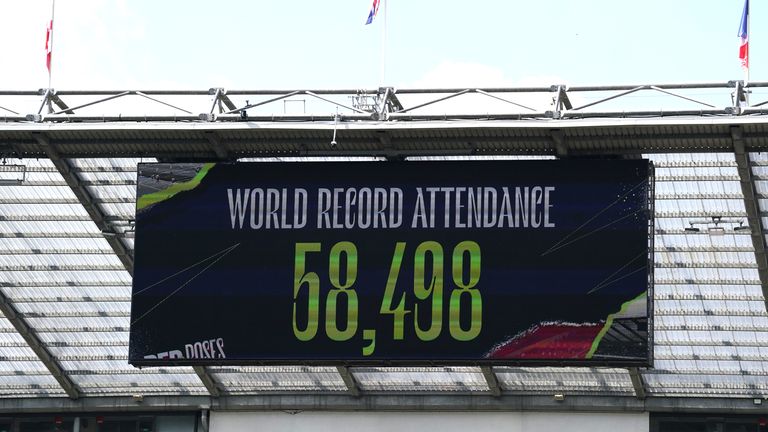 "I don't think any of us have played in front of a crowd like that and I've been knocking around for a while now.
"The other nations are closing the gap and getting professional contracts, so the quality of the games is getting better and not just England vs France games.
"Everything is on the rise so more tickets will be sold and more stadiums will sell out.
"The bus journey into Twickenham was a pinch-yourself moment. There were fans all along the streets … it was just a very special occasion from start to finish."
The 33-year-old finished the championship with seven tries from five fixtures, despite playing in the back-row, but added she did not think it was time yet for the Red Roses to play all their Tests at Twickenham.
Other England Women home games have been played at Kingston Park in Newcastle, Franklin's Gardens in Northampton and Welford Road in Leicester among others in recent years, and Packer feels it is important for the Red Roses to continue to travel around the country and build their brand.
"When we take the Red Roses on the road, we get fans in from all over the country. We're a brand and we want to keep selling our brand," Packer said.
"Yes it would be great to play at Twickenham every time and that in itself will come in time, but we need to keep building our fanbase. That's down to us players and putting a product on the pitch that makes people want to come back.
"Let's get us in stadiums where we're close to selling out all the time because we always want a stadium that's near enough sold out.
"I think 58,000 people will want to come back and watch after today."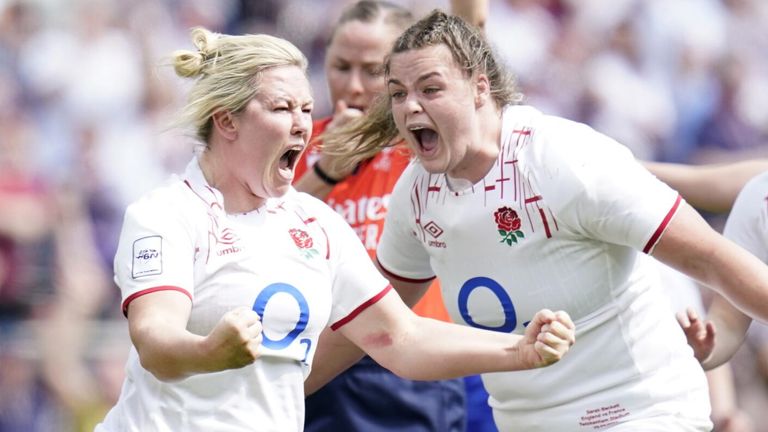 Saturday's contest also marked the last occasion in which departing Red Roses head coach Simon Middleton will be in charge, as he leaves after being at the helm since 2015, and having led a squad to a sixth Six Nations title.
Packer paid tribute to her coach in the bowels of Twickenham post-match, while Middleton praised his "fantastic" squad for the quality and character shown to clinch victory.
He added occasions such as Saturday, a Grand Slam decider with nearly 60,000 at Twickenham, are where the women's game should be at.
"This game has given me more than I've ever dreamed of," he said. "It's been an exceptional day that I will never forget.
"You live for moments like lifting the trophy. The team deserve all the success they get. Winning ugly would have been great but we won with some fantastic rugby.
"We drove through Twickenham on the way in and you could just sense the excitement. We got to the stadium to thousands of people waiting for us and you just think to yourself: 'This is a stage. This is where the game needs to be'.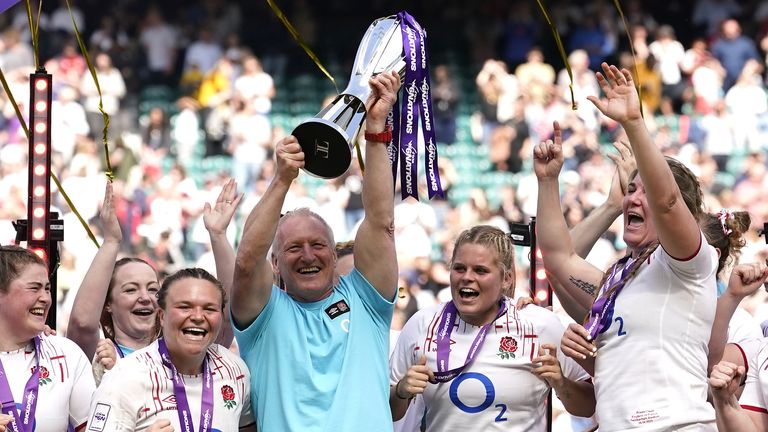 "You want a good performance from your team because you know it will be at the root of the result. But ultimately when you get to a finals day like this you have to find a way to win. We won with some fantastic rugby, but full credit to France, they were absolutely exceptional with the character they showed and the rugby they played.
"I think what everyone needs to understand is that the game has given me just as much as I've given the game, without a shadow of a doubt. It gave me a great opportunity to coach with England, work with some fantastic players and to develop myself as a coach and a person.
"We've had some great successes and we've had some failures, and that's sport. But when you look around the stadium to see 58,498 people you can just feel the energy. I couldn't be prouder and it's not a bad place to step out."