"Sign the contract and make the fight happen!"
That was the call from Martin Bakole to Dillian Whyte after the pair had a backstage altercation following Bakole's stunning third-round stoppage of Ihor Shevadzutskyi in Poland on Saturday night.
"The only guy I can fight right now is Dillian Whyte," Bakole said on Sky Sports News as he described himself as a "monster" who is ready to "take over" the heavyweight division.
"[Whyte] is hiding. All he has is arguments and to insult. I want him in the ring. If he beats me then he can insult me. Sign the contract and make the fight happen."
Watch Bakole's incredible stoppage of Ihor Shevadzutskyi in an alternative angle that was not seen on fight night

Bakole called out a number of the division's stars, including Oleksandr Usyk, Daniel Dubois and Deontay Wilder, after his demolition of Shevadzutskyi.
The 29-year-old said: "I know I can stop all these guys. I can box, I can punch, everything is perfect. It is time for me to take over the division. They are avoiding me, they are scared.
'I'm a monster, people are avoiding me'
"I sparred Daniel Dubois, I sparred [Derek] Chisora, I sparred Joe Joyce, I sparred Anthony Joshua, and the Gypsy King [Tyson Fury].
"If you ask all the coaches, they say something good about me. They never mention anything bad. I'm a monster.
Bakole called out Dillian Whyte, Daniel Dubois, Oleksandr Usyk and Deontay Wilder after his stoppage of Shevadzutskyi

"I stopped Usyk with a body shot in sparring, I broke Daniel Dubois' nose in sparring. I stopped him twice. I think that's the reason they are avoiding me."
BOXXER CEO Ben Shalom said he was now looking for Bakole to step in with Wilder – the American is No 1 in the WBA rankings with Bakole at No 2.
Bakole added: "Wilder took over my place. I'm supposed to be No 1, and I would be delighted to meet him.
"I'm asking the WBA president [Gilberto Mendoza Jr] to make that fight happen. I'm No 2, he's No 1. Why not fight?"
Wilder vs Bakole?
Sky Sports Boxing expert Johnny Nelson feels Wilder would take a fight against the "dangerous" Bakole.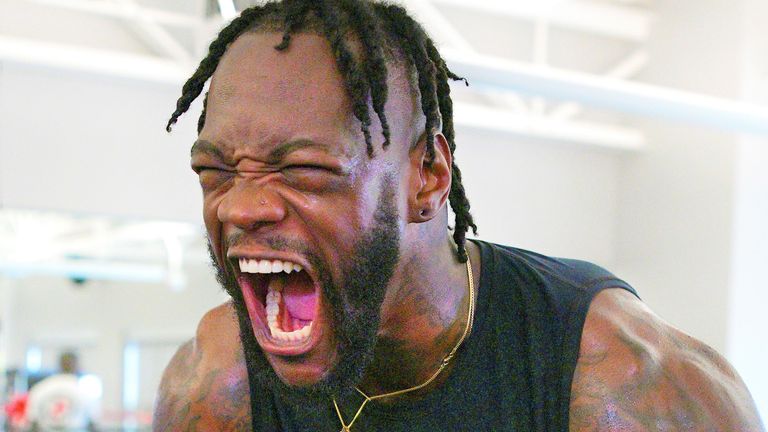 Nelson said: "I think Wilder and his people will look at it and think he has the punch power to get rid of Bakole.
"Wilder did that with Luis Ortiz, something I really rated him for because Ortiz was certainly not in a slump in his career. Deontay has so much confidence in his raw power.
"We have seen what beats Wilder. Someone with smooth boxing skills. You can't match him for power so you need to outbox and outmove him.
"Even if you are tough and durable, you cannot take the sort of shots Wilder will throw out.
"But don't sleep on Bakole or you could be turned over. Saturday night showed how destructive he can be when he is on it."